UFORadiant/Main Window
Jump to navigation
Jump to search
Main window is where most of the time is spent during mapping. Understanding what each component in there does can help in the process.
Main window components
This is how main window looks right after starting up UFORadiant. As a lot of things can be customized, look may differ depending on e.g. used screen/resolution.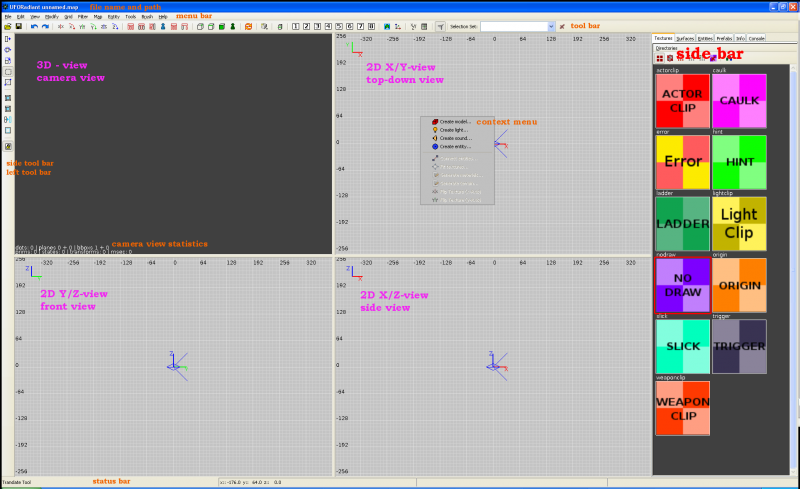 If you open a map, many areas are populated with map data. Here's how Radiant looks with map opened (main areas annotated):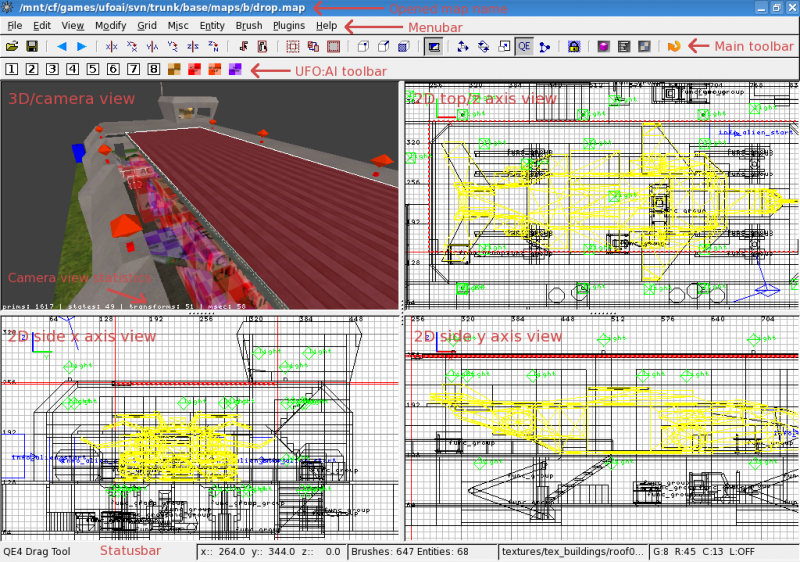 RMB

on a 2D view will open Context menu.
Toolbar icons
Main toolbar

| Icon | Tooltip text | Action |
| --- | --- | --- |
| | | Opens file selection dialog to choose map file |
| | | Saves current map |
| | | Undoes actions |
| | | Redoes actions |
| | | Flips selected object on x axis |
| | | Rotates selected object on x axis |
| | | Flips selected object on y axis |
| | | Rotates selected object on y axis |
| | | Flips selected object on z axis |
| | | Rotates selected object on z axis |
| | | Selects brushes that are touching the selected brush |
| | | Selects brushes that are inside the selected brush (?) |
| | | Subtracts selected brushes from all other brushes |
| | | Merges the selected brushes, if possible |
| | | Redoes actions |
| | | Enters vertice selection mode |
| | | Enters edge selection mode |
| | | Enters face selection mode |
| | | Toggles cubic clip |
| | | Selects translate tool |
| | | Selects rotate tool |
| | | Selects scale tool |
| | | Selects QE/resize tool |
| | | Selects clipper tool |
| | | Enables/disables texture lock |
| | | Opens entity list |
| | | Opens Radiant console |
| | | Opens Radiant texture browser |
| | | |
UFO:AI toolbar

| Icon | Tooltip text | Action |
| --- | --- | --- |
| | | Selects brushes marked to appear in a particular level |
| | | Toggles actorclip brush displaying |
| | | Toggles weaponclip brush displaying |
| | | Toggles nodraw brush displaying |
Statusbar contents
Statusbar contents

| Area | Description |
| --- | --- |
| | Shows selected tool name |
| | Shows position of mouse cursor |
| | Shows brush and entity count in the current map |
| | Shows copied texture name. Currently not too useful in resolutions up to 1024x768 |
| | |